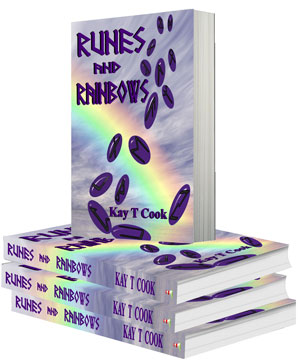 I have written two books, Runes and Rainbows, and Feathers of Destiny, a visionary novel.
In Runes and Rainbows I share my way of working with the runes, chakras and energies. This system emerged from my love of runes and my public work over more than twenty years with mediumship, chakra and energy readings.
Blending informative illustrations and charts, example readings and knowledge from the author's many years of practical experience, this book guides the reader through Runes and Rainbows, an integrated system for insight and empowerment. There are four steps to the Runes and Rainbows process which are clearly outlined in the book. The reader will learn how to integrate information sourced from the chakras of the person being read for and the universal energies. However, if you just want to read the runes, this book will help you to give an exceptionally accurate and detailed reading. A chapter on Major Soul Growth Projects is also included. Runes and Rainbows is available from Amazon and some bookshops. Please contact me if you require assistance.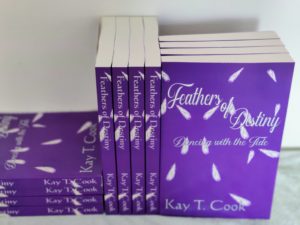 Feathers of Destiny, my novel with a spiritual and evolutionary theme, is out NOW! A story of romance, spirit and  the forces of wider destiny. Many years before, when Bryher's life was in danger, an imperious woman of great power handed her a white feather. Follow the twists and turns as life unites her with Greg and the astonishing scenes he glimpsed on a vision quest. Discover the point of power in distant history that bound the ancient spirit woman in soul sisterhood, and linked them to the lives Greg and Bryher live now.
Feathers of Destiny is also available from Amazon.com and Amazon.co.uk
Cookies and GDPR Privacy Policy